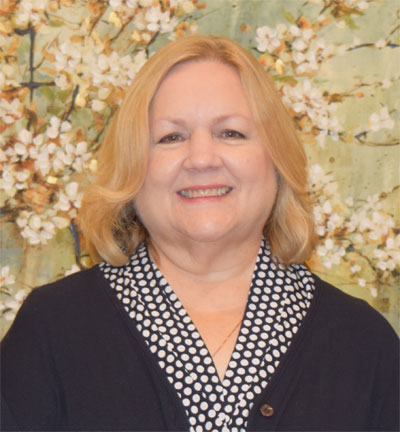 Patti Hill is a Columbus, Georgia native and has worked in both Alabama and Georgia in medical-surgical infectious disease, trauma, critical care, cardiology, and family practice for over 39 years. Patti was a nursing director at Navicent/Medical Center of Central Georgia for over 15 years and a nursing professor at Macon State College prior to returning to graduate school to complete her Family Nurse Practitioner post-masters degree. She has been a speaker at local, state, regional and international nursing conferences on various topics in nursing. She has been a recipient of Georgia State University Alumni Scholarship in 2018, & Mentor of the Year in 2002 at Navicent/Medical Center of Central Georgia.
Patti has been married to her husband, Steve Hill, for 46 years and is the mother of three daughters, one of whom is a R.N and another a NP. Patti is also the grandmother of six grandchildren. Patti is an active member of Turning Point at Mable White Baptist Church and her interests include reading, keeping grandchildren, history, and watching old movies. She has been involved in misson outreach with her church, the Macon Baptist Association, international missions with the Cooperative Baptist Fellowship, as well as volunteer work in the community.
Patti's special interests in medicine are women's health, cardiology, oncology, and family practice. She is happy to have been at North Macon Family Healthcare for a long time and looks forward to serving patients.
Certified as a Family Nurse Practitioner by the American Academy of Nurse Practitioners
Member, Doctors of Nursing Practice, Inc.
Member, United Advanced Practice Registered Nurses of Georgia
Member, Sigma Theta Tau International Honor Society of Nursing
Former certifications in oncology, genetics, med-surg, & nursing administration
Degrees:
Doctor of Nursing Practice, Georgia State University, 2019
Post-Masters, Family Nurse Practitioner, 2008 & Masters, Nursing Administration, 1996, Georgia College & State University
B.S. Nursing, 1990, University of the State of New York
A.D. Nursing, 1980, Columbus State University